The legacy of Rammellzee
Sotheby's in deal to sell estate of hip-hop pioneer and graffiti artist Rammellzee
Auction house is enlisting dealers and curators to promote the legacy of the polymath who is believed to have cursed his collection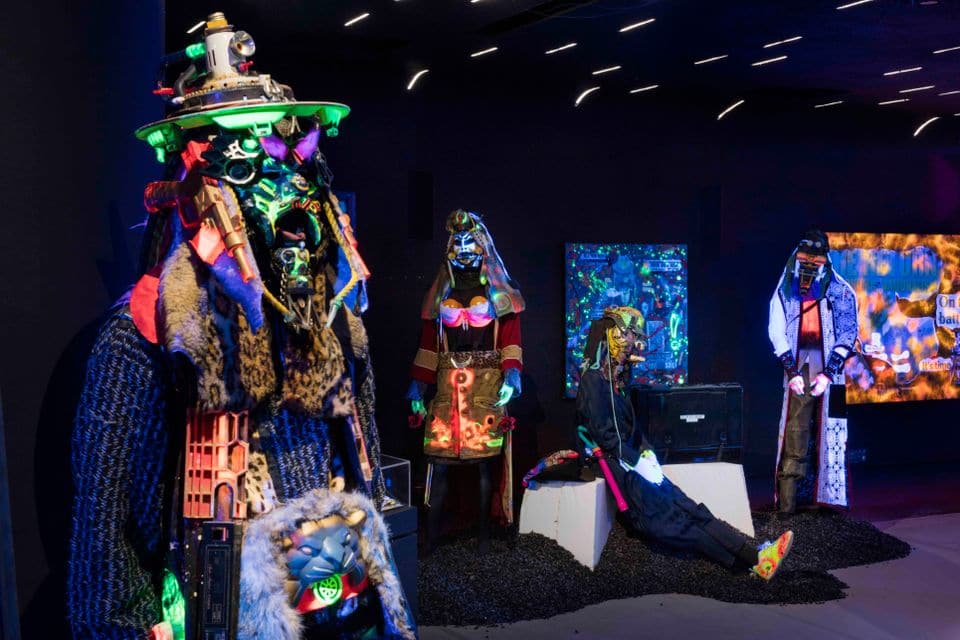 Exhibition view of Rammellzee: Racing For Thunder at Red Bull Arts New York, showing the artist's Garbage Gods
Techno-poet, Gothic futurist, graffiti artist, rapper, philosopher or… an equation? Such are the diverse and eccentric descriptions of Rammellzee, a cult figure in the New York hip-hop scene who died in 2010 aged just 49.
Now Sotheby's, that most conventional of art businesses, has been entrusted with promoting and selling the polymath's estate.
Around half of the works currently on show in a non-selling survey of Rammellzee's work at Red Bull Arts in New York (until 26 August) have been loaned by Sotheby's. But this autumn, to coincide with the Frieze Art Fair in October, the auction house is hoping to woo British collectors, offering pieces in a show at Lazinc, the Mayfair gallery of Steve Lazarides, Banksy's one-time agent.
According to Lazarides, this will be the first major exhibition of Rammellzee's work in the UK, and will feature around five works offered by Sotheby's alongside pieces loaned by private European collectors. Prices range from £30,000 for a small work on card to £350,000 for large-scale sculptures in epoxy resin (Rammellzee's health problems were caused in part by prolonged exposure to such toxic materials).
Much like his life and art, mystery surrounds Rammellzee's estate. Sources close to the artist say he cursed it before he died, warning custodians to not disperse it. His widow Carmela Zagari was the first to take it on, working with the New York dealer Suzanne Geiss, but in October 2012 Zagari died in a freak home accident when a bookshelf is rumoured to have fallen on her. The estate then passed to Zagari's sister, who consigned it to Sotheby's around a year ago. Most of the pieces have been stored unseen for years.
"When we embarked on the [Red Bull Arts] project, the estate was a real mess," says Carlo McCormick, an independent curator who organised the show with Max Wolf. "It's a really conflicted slope when auction houses get into estates, but it got easier when Sotheby's came on board. Together with Red Bull's resources, we knew we were going to have a show that would blow people's minds."
The estate largely consists of pieces created during the last 15 years of Rammellzee's life, the "real eye candy", McCormick says. By then Rammellzee had become increasingly reclusive, barely leaving the Battle Station, the fabled Tribeca loft that was his home studio and "life's work", as McCormick describes it.
It was there that he produced his Garbage Gods, handmade Samurai-style costumes that he sometimes wore in public, and the Letter Racers, spacecraft-type sculptures that hung from the ceiling in battle formation, each representing a letter of the alphabet. "He was creating this visionary afro-futurist universe, but it was private work and not for sale," McCormick says. Sotheby's declined to comment on the value of the estate.
Rammellzee started out in the late 1970s tagging the A train in Far Rockaway, Queens, where he grew up, but this period of his career was short lived and remains relatively undocumented. Ever precocious, the young artist soon developed radical theories about graffiti and language as a system of domination to be liberated. His unlikely source of inspiration? Medieval monks whose lettering became so ornate it was incomprehensible to the bishops who eventually banned it.
Despite his radical resistance, and a cultural code among graffiti writers to not sell out, Rammellzee had ambitions to succeed commercially. During the 1980s he built up a loyal following for his paintings and sculptures, which continued until he died. The French architect Alain-Dominique Gallizia was the most active in Europe, collecting around 50 paintings, which he values at several million euros in total. "A very beautiful Rammell today is worth between €100,000 and €500,000," he says.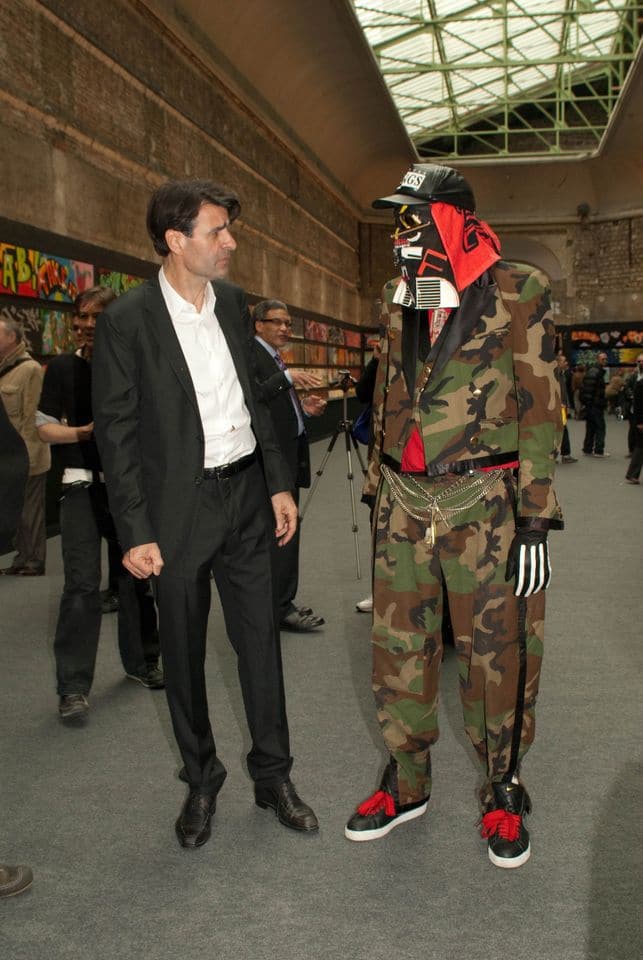 Rammellzee and the collector Alain-Dominique Gallizia. To state the blindingly obvious, Rammellzee is on the right.
Early supporters in the US included the dealer Larry Gagosian and James Jebbia, the founder of the streetwear brand Supreme. In 1985, Heiner Friedrich, the dealer who established the Dia Art Foundation, bought Rammellzee's entire show at the Gallozzi LaPlaca Gallery, according to Jane Rankin-Reid, the gallery's director at the time.
Rammellzee met Jean-Michel Basquiat in around 1980, and they became both friends and fierce competitors. "They had this funny friendship," says Seth Tillett, a theatrical set designer and close friend of Rammellzee. "Jean-Michel blew up so fast. Graffiti writers were struggling to get their stuff off trains, they were signing the city, appropriating the space to claim their existence, whereas Basquiat aimed to be Picasso." Basquiat produced Rammellzee's best known rap record, Beat Bop, even drawing the vinyl single's cover art.
Sotheby's is marketing Rammellzee as the precursor to Basquiat, whereas the two have been positioned as peers and collaborators in an exhibition which will open at the Museum of Fine Arts, Boston in spring 2020. Not everyone agrees with the logic that before Basquiat there was Rammellzee. "I wouldn't say Rammellzee was the forerunner to Basquiat. SAMO [the graffiti collective Basquiat formed with Al Diaz] was not considered a writer. Basquiat was more poetic, he was more of a Dadaist," Tillett says.
Sotheby's declined to comment further on its plans for Rammellzee's estate. But when asked in a promotional video where Rammellzee might fit into someone's collection, Eric Shiner, Sotheby's senior vice president of contemporary art, replies: "The beauty of it is, because of its complexity and its formal arrangement, it can fit into nearly any collection. You can put it next to a Twombly or a Pollock… there's this great gestural quality to the work. Just as you can put it into any pop collection in terms of its colour palette. You can put it next to a Cindy Sherman and play with the idea of masquerade."
Inevitably, the estate's sale is causing some contention. Gallizia, who says he owns a copy of Rammellzee's will, says the artist asked the collector just before he died "to continue the fight against the established order of contemporary art". Tillett, meanwhile, describes moulding Rammellzee into a "normal, saleable, investable, bankable artist" as like "trying to squeeze a lump of coal into an engagement ring to make a bunch of money".
There are whispers, however, that some of the profits from the estate will be funnelled into a foundation being established in Zagari and Rammellzee's names. "What Rammellzee cared about tremendously was art programmes for at risk urban kids," McCormick says. What better way to channel Rammellzee's spirit and keep the myth alive?